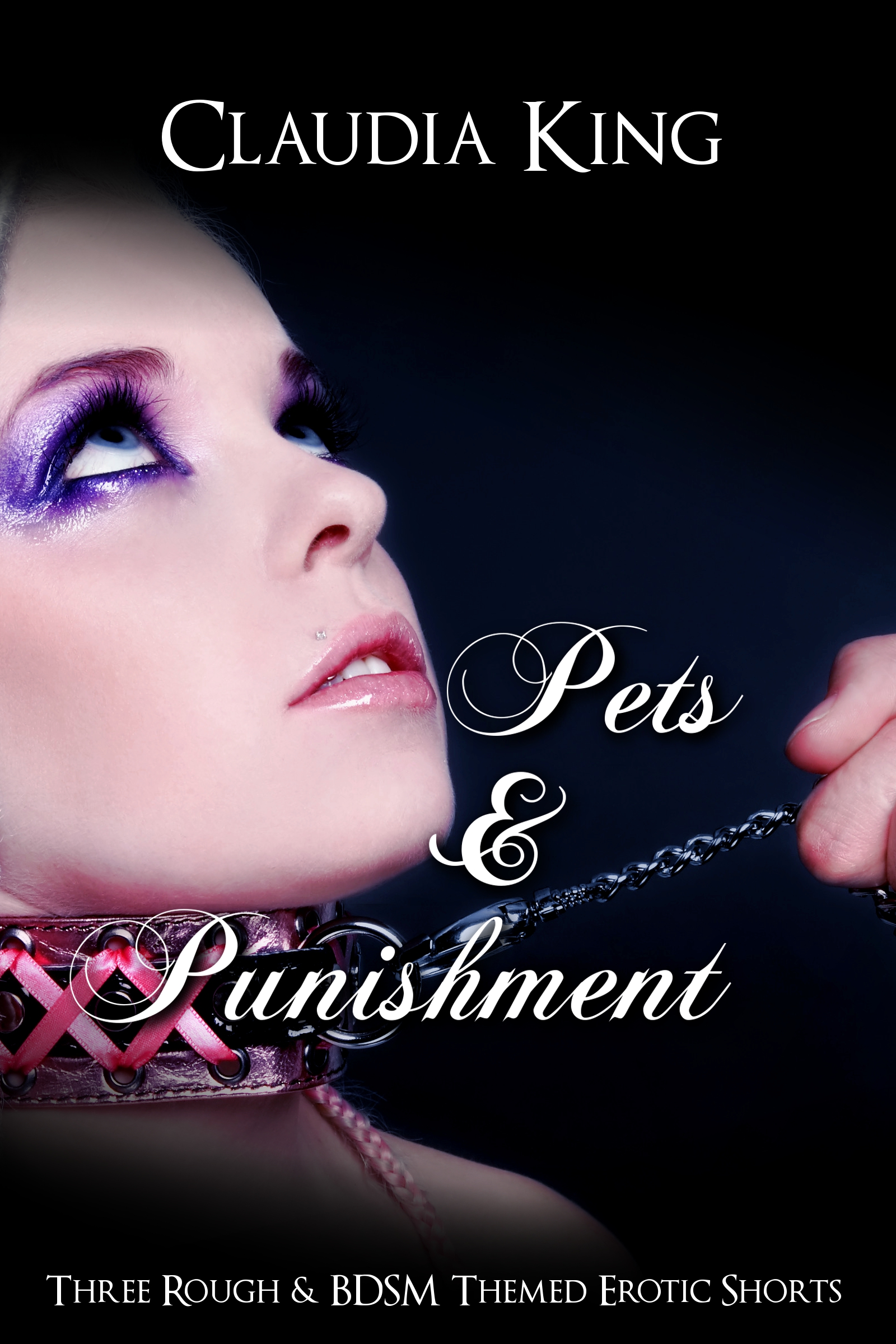 Phew, it's been way too long since my last blog post, but I've been working hard to get Broken Moon #1 ready and this final bundle of mine put together.
Pets & Punishment consolidates the last three of my erotic shorts into one steamy package, and is now available to purchase on
Amazon
and
Smashwords
!
Whips and canes, cuffs and gags, leashes and collars -- some girls love nothing more than the firm hand of a domineering master to teach them a harsh lesson in the bedroom.
Filled with pain, pleasure, and sizzlingly wicked punishment, Claudia King presents three erotic shorts themed around BDSM, pet play, and rough, wild, passionate encounters.
Not for the faint of heart!

Contains:

Confessions of a Slut Puppy
More Confessions of a Slut Puppy
Punishing the Principal

Confessions of a Slut Puppy:

When Fiona's husband buys her a cute little puppy tail to wear in the bedroom she is more than happy to indulge him. With the long days at home driving her to boredom, however, her tail soon becomes more than just a sex toy, and she finds herself fascinated by the prospect of becoming an obedient puppy slave for the man she loves.

More Confessions of a Slut Puppy:

Fiona is her husband's obedient puppy slave, completely devoted to both him and the kinky games they play together. When the couple start to become involved with a local BDSM community, however, Fiona's husband soon has plans for her to serve more than just one master...

Punishing the Principal:

Uptight Principal Alexandra's newest teacher Bret aggravates her to no end, but when she invites her cocky colleague to her house for a serious talk about his future, tempers and passions quickly flare. Does Lex really want to punish him? Or is she the one longing to be punished, spanked, forced, and made to feel like a whore for the first time in her life?

15000 words total.
---
So! This means that my great edit-a-thon of 2013 is finally complete (and just in time!). All of my old erotic shorts from last year should be updated across most retailers by now with minor revisions and much tighter editing. I've done my best to turn all of those pesky hyphens into emdashes, turn a few commas into full stops, iron out some awkward run-on-sentences, and catch as many typos as I can. I'm sure there are still a few lingering problems, but I think I can safely come to the end of 2013 feeling a lot more confident about the quality of my back catalogue!
Now that I've cleared most of my backlog I'll probably do another article soon about my first full year in self publishing (gosh, it's flown by!) sharing some of my experiences, the tricks I've picked up, the mistakes I've made, and what I'm hoping to improve upon in the future. I'm by no means a seasoned veteran yet, but I've definitely reached the point where I feel confident in calling myself "a writer".
Next up on the schedule is publishing the first chapter of Broken Moon, followed by further revisions of Wild Instincts in preparation for release as a standalone novel at the beginning of next year.