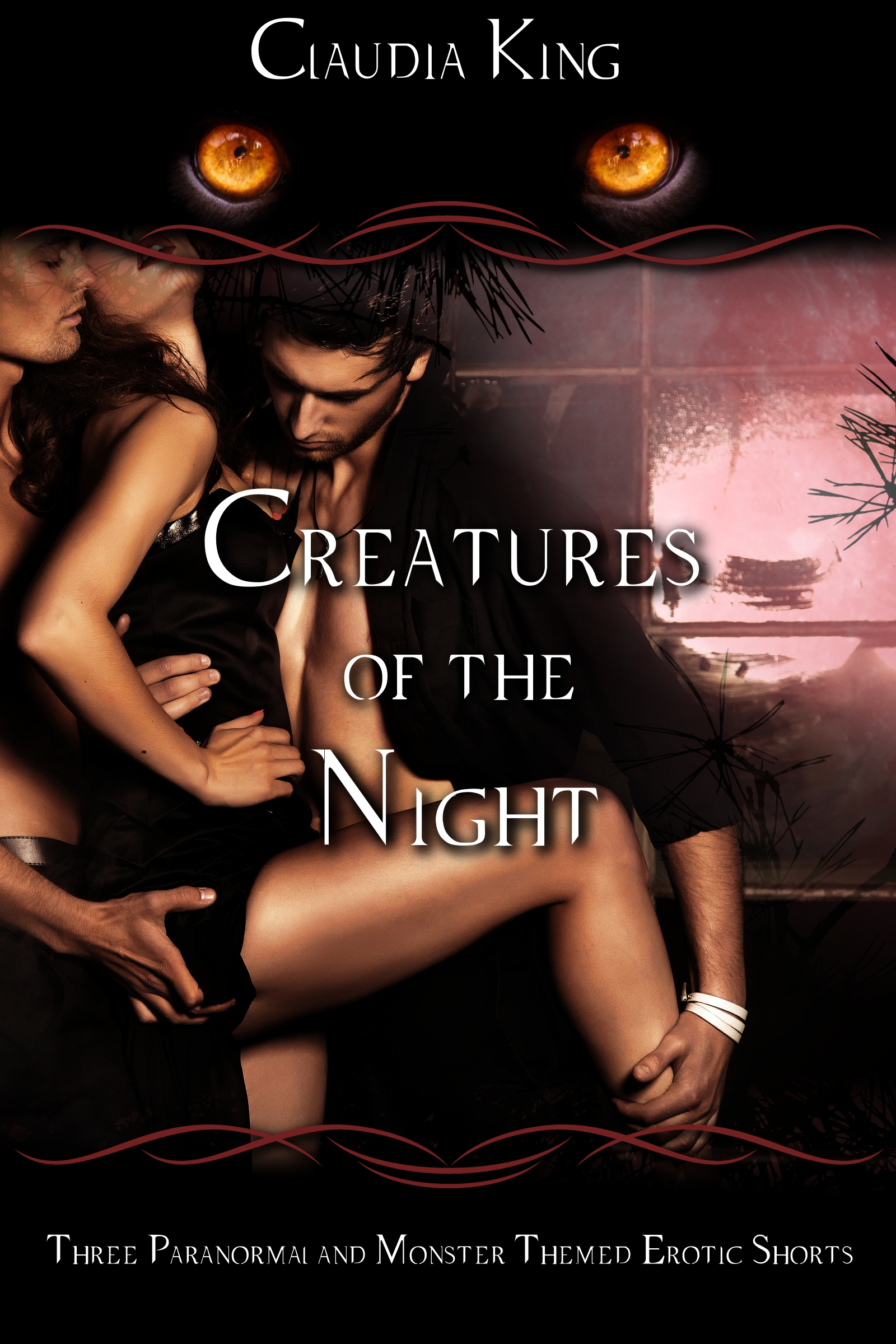 Spooooky!
Since Halloween's coming up I figured now was a perfect time to re-edit and repackage three of my old erotic shorts into a nifty bundle involving all sorts of beastly and paranormal sexytimes!
Creatures of the Night
is available now for purchase on
Amazon
and
Smashwords
!
* * *
Mysterious, frightening, and furiously passionate -- the creatures that lurk in the night embody our darkest and most erotic of fantasies.
From beautiful vampires to lustful beasts, Claudia King presents three erotic shorts themed around the monstrous and the paranormal.
Not for the faint of heart!

Contains:

Taste Me, Take Me (MMF, Vampire)
Mated by the Minotaur (M/F, Monster)
Ravaged in the Stables (M/F, Paranormal)

Taste Me, Take Me:

Two beautiful strangers have been watching Rachel from the crowd whenever her band performs. Tempted by the pair, when Lane and Stefan finally introduce themselves she finds herself accompanying them back to their apartment that very night, only to discover that her handsome admirers are not just hungry for her body, but her blood as well.

Mated by the Minotaur:

Princess Cilissa's cruel father has had enough of his wayward daughter's disobedience. Sentencing her to be thrown into the Minotaur's labyrinth, Cilissa has no choice but to accept her punishment.
The maze is dark and endless, and her only hope is to find a way out.
Somewhere in the darkness the beast stalks her, ravenous to claim the beautiful young princess and make her body his.

Ravaged in the Stables:

A wild girl living by her own wits, Kay is both fascinated and intimidated by the exotic wolf men living in the woods nearby. When one of the beasts comes to her aid, however, she soon finds herself alone with him in the stables, and Kylar the Wolf is intent on making Kay his mate in a night of furious passion.
* * *
So! That means there's only one more bundle (containing three more shorts) to go and I'll be all caught up on redoing my back catalogue, at which point I can get on with the full novelisation of Wild Instincts and begin my other new projects in earnest.
Also as another update, it seems as though some ebook retailers, Amazon included, are cracking down once more on certain erotic titles (predominantly from self-published authors) that feature various "taboo" themes. Fortunately this has only hit two of my titles, my M/M bundle and one of the stories it contains, but I've managed to tweak the title and description of His Girlfriend's Daddy to make the implied-pseudo-incest-but-not-really less obvious. The bundle is back up, but I'll have to redo the cover of His Girlfriend's Fantasy (to use the new title) in order to get it back on Amazon's shelves as a standalone.
I considered writing another blog post detailing my thoughts on this latest absurd wave of censorship (and the horribly inconsistent and frustrating way Amazon is handling it), but really I wouldn't be saying much that I hadn't already outlined in my post on
The UK Porn Block
. I feel very strongly on issues of media censorship, and the stifling of sexual outlets and fantasies is never something that I've considered to be healthy for society as a whole.
The good folks over on kboards are involved in
a lengthy discussion on the subject
that you can check out for more details and accounts from various authors who are having their whole livelihoods messed up by this Victorian attitude to porn and sex-based media.
I should have some more regular releases appearing in my schedule now that my last novel is out of the way, so keep your eyes peeled for more updates coming soon!